You won't have been in Marrakech for more than half an hour before someone stops you in the street and asks, 'excuse me, desert excursion?'
If you so much as blink they'll then show you photos of the camel tour of your dreams, the desert camp, the rolling sand dunes of the Sahara and the unforgettable experience you'll soon have if you just sign up to go on their desert tour.
Well, unforgettable is a fairly neutral word.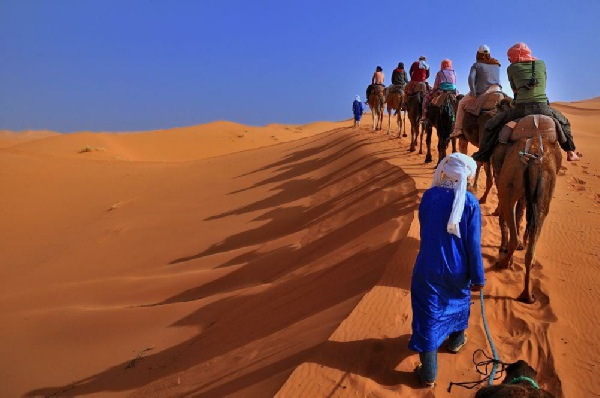 Why someone would book a Sahara desert tour in Marrakech, 500km away is beyond us, but whereas tourists used to just turn up in Merzouga, Zagora and M'hamid and look for some locals to take them out to the dunes on camels, nowadays the city touts and online desert tour sites have swallowed almost all the business, taking the lion's share of the money and leaving just enough for the locals who actually do the work (look after the camels, take the tourists out on the tour, feed them, entertain them) to get by.
But that's globalisation for you and tourism in Morocco changes just like everything else.
Take cameras, for instance.
Time was, it was the only Japanese who travelled the world taking photos of everything – their hotel door, the bus ticket, the street signs – but now we've all essentially become Japanese. Walking back from sunset on a high dune near Merzouga recently I saw a few caravans of tourists on Morocco passing and the active selfie stick rate held at 20% regardless of nationality.
'How was Iceland?' one girl from Singapore asked as she entered the Sahara Desert.
'Overrated if you ask me, lah,' her friend replied.
Perhaps he didn't enjoy Iceland because he was busy talking about Niagra Falls.

And then there's the camels. I get it, people come to the Sahara Desert and want to make a camel tour because camels and deserts go together like tourists and selfie sticks, but I can't help seeing it as a little pathetic to see 15 camels all strung together by a rope from mouth to saddle so they don't deviate from the chain, led along by the Berber guides on foot, carrying tourists who imagine they're riding camels. Strictly speaking, they are, but only like the kids who get donkey rides on the beach. Or the kids with the the plastic steering wheel on the back seat of the car who imagine they're the ones driving.
But however cheesy a camel tour might be, at least it's silent. Something those who come to the Erg Chebbi dunes to tear around on quads, motorbikes and 4×4 cars might bear in mind.