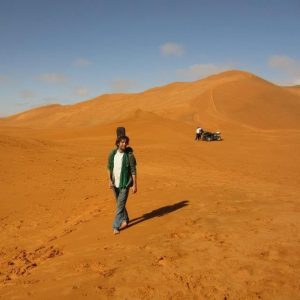 The retreat was founded by Tom Thumb,  and it's his vision to bring together interesting people  in beautiful places to share what they've learned from their experiences and inspire each other.
Tom has spent considerable time in deserts around the world but retains a special affection for the rolling sand dunes of the Sahara. He's been running the retreats since 2010 and each year the experience gets deeper and more rewarding.
As a traveler who's been on the move since 1995, Tom understands the importance of creating a safe, authentic oasis for anyone  in search of community and nature. The Road Junky Sahara Retreat is the perfect place for those interested in exploring their spiritual boundaries and opening up the heart.
The retreat is organised in partnership with the local Riad Les Flaments Rouge who provide the accommodation and expertise for our safe stay in the desert.
The teachers
Every year teachers are invited to run yoga, meditation and dance workshops. The idea is to have a range of personalities and backgrounds in the retreat team so that everyone can relate to someone. We always aim for a non-dogmatic, easy-going atmosphere and the teachers always reflect that in their classes.
If you've got a question or a doubt don't hestitate to be in touch.