We run one yoga retreat every year and one meditation retreat in Morocco, both with dance workshops.
But what if you have a different kind of event in mind?
The advantage of our set up in the Erg Chebbi sand dunes is that our camp in the desert is only an hour's walk from the village of Hasalbied. This means in case of emergency we can get help quickly, we can bring supplies as and when needed and there's no need to exhaust yourself on the way out.
The camp is pretty simple – take a look:
There's no running water, no toilet and no electricity apart from a few solar-powered light bulbs to find your things in the tents at night.
We have gas bottles and stoves for cooking and a team of locals who take care of all our food and tea. There is a (limited) supply of water to wash hands with and thin mattresses and plenty of blankets to keep us warm at night. A sleeping bag is always a good idea though.
We can have a little fire at night (for obvious reasons firewood is in short supply in the desert) and we create a structure to give extra shade in the daytime when the sun can be strong.
We can arrange transport from Marrakech or Fes to the desert and back by mini bus.
So what kinds of events can we host?
Kid's events
An hour's walk through the sand might be too much for some children and so we can arrange to take them out on camels (all tied in a line so it's quite safe) which has the advantage of being a lot of fun!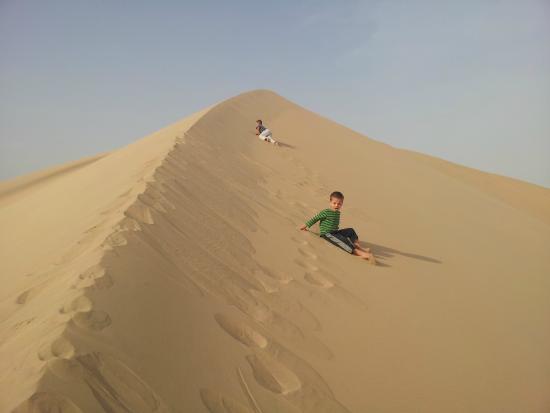 Conditions can be hard in the Sahara even for adults with the cold, the heat, the wind etc and we can never make any guarantees for the weather. For that reason we would recommend timing your event during the most temperate seasons – October, November or February.
The Sahara is like a big sandpit which makes even grown ups regress so just imagine how crazy kids go in the dunes! Whether it's making patterns in the sand, learning which tracks different animals and insects leave behind them, watching the moon rise, learning constellations of stars at night or singing around a fire at night, it's bound to be an unforgettable experience.
Conventions, seminars, parties
We can host up to 30 people at a time in our camp – maybe even more if we pitch another tent close by. So if you want to make a special party, wedding, yoga seminar or team building workshop then we can help you out. We can arrange teachers, musicians and storytelling if required.
There are a couple of provisions though:
We don't host events involving alcohol. It's just much easier and safer this way for everyone concerned.
Sorry to be graphic but you must be able to take a shit in the sand. There are no toilets and so we simply walk a long way from the camp, dig a hole and…leave a present for the dung beetles.
What would it cost?
It really depends on what you need. The best thing to do is get in touch and  explain what you're looking for and we can then give you a quote.