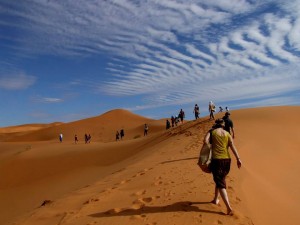 We started making the yoga and meditation retreats in the Moroccan desert back in 2011.
This might be the first winter we can't go to the dunes.
Even in August we were optimistic that it might be possible but 2020 has taught us that change can happen very fast indeed.
For the moment we haven't cancelled the retreat and we still hope there might be a lightning roll out of the vaccine and international travel will be allowed again in time for us to gather together in the sands.
Realistically it doesn't seem too probable that we will be able to, however.
We'll be sad not to make moments of magic under desert skies this winter but the Sahara isn't going anywhere. We'll be back next winter to camp in the desert, sing around the fire, dance under the stars and get sand into every corner of our clothes and bags.
If you were hoping to come on the retreat this winter don't forget to sign up to our newsletter for updates!