We keep a very relaxed vibe on the retreat and there's no obligation to take part in any of the workshops. If you just want to walk in the dunes all day and come back at mealtimes, that's fine. The idea is for everyone to find their own rhythm according to their needs.
Just please turn off your mobile phone, don't bring alcohol or drugs and treat everyone with respect.
The December retreat will have a focus on yoga and the joy of dance.
The March retreat will be based on meditation and dance or contact improvisation.
Both retreats will feature singing, storytelling and music around the fire!
The Yoga and Joy of Dance Retreat 11-17 December, 2016
Yoga
Tina Stergar will be teaching yoga in the mornings and will take you deeper into the journey of yoga whether you are stretching out for the first time or have a steady practice.
We will enter into a dynamic meditation, moving in synchronization with the breath, bringing awareness to all the different parts of the body to create space within. Through the practice we also understand better ourselves and our place in the world.
Expanding our senses in the yoga practice, we will be open to discover the freedom of expression through the body in the joy of dance classes in the afternoon.
The Joy of Dance
Anni Taskula will guide us through a joyful dance improvisation on the dunes.
We will find inspiration to dance from both within and without; guided by inner impulses found through shaking, breathing, voice and touch, we will also be inspired by the surrounding earth, wind and sky.
To discover the joy of dance we will tune into a certain space in our minds that resonates with the emptiness of the desert. Then we'll explore movement through improvisation tools from contemporary dance, contact improvisation and butoh.
No previous experience of dance is needed, just a curious approach and open mind to self-expression and improvisation. Bare feet and comfortable clothes are all the equipment needed to go on this journey of dance.
Sharing Circles
After we've eaten at night and the stars have come out we'll gather around the fire to play music, tell stories and also from time to time share our experiences through talking circles, a Native American tradition designed to encourage an atmosphere of listening and empathy. Year after year we see long-lasting friendships formed in the retreat as each person finds their self-expression and a new capacity to relate.
Tom Thumb will also do some storytelling – modern fairy tales to let your imaginations go wandering through journeys of myth and metaphor…
The Meditation Retreat – 5-11 March, 2017

Durward Burrell will be teaching the art of meditation each morning, helping us find the spaces between our thoughts and connect with who we are beyond the surface agitation of habitual mental chatter and worries.
While this is a meditation retreat we won't be jumping up at 4 to chant mantras; rather we have the morning group meditation for those who wish to join and also when we climb the high dune in silence at sunset. The retreat has more of a gentle focus on mindfulness and connecting with the heart through all of our activities.
You'll find that just being in the Sahara increases the awareness of your mind, your breath, your feelings. Just taking a walk in the dunes is like a meditation.
Contact Improvisation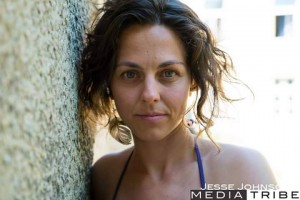 Elisa Ghion will be teaching contact improvisation dance in the afternoons. There are no steps and no experience is needed, just a willingness to listen, feel and discover.
If you're new to contact improv check out the video below. Elisa brings a playful, spontaneous spirit to the dance and we're guaranteed to have a lot of fun even as we learn and discover.
Contact improv is all about finding new ways to communicate, move and express yourself without words. It's an amazing journey of discovery that can be slow and subtle or free-flowing and acrobatic. Check out a contact improv jam in the video below to get an idea of where it can take you…
Aikido – the Art of the Third Way
Durward will also be running aikido workshops in the afternoon. Aikido can be seen as the art of negotiating the challenges we face in our lives and creating a middle way between resistance and surrender. Through gentle physical exercises, Durward will show us how to bring the mindfulness of meditation into each of our movements.
It makes a perfect complement to the contact improv sessions.
Schedule
Welcome dinner in the village of Hasalbied on Sunday  at 9.30pm. We'll sleep there and in the morning put our bags on the camels.
Monday we walk out into the dunes and hold our opening circle.
Each of the following days will be structured around meal times, meditation, workshops and music round the fire at night.
Then on Saturday morning we'll load our bags onto the camels again and head back to town. You can stay an extra night in the village or take the night bus out.